BLOG
ALL POSTS
VA BENE PASTA DELI WITH THE LITTLE BLACK COUPON BOOK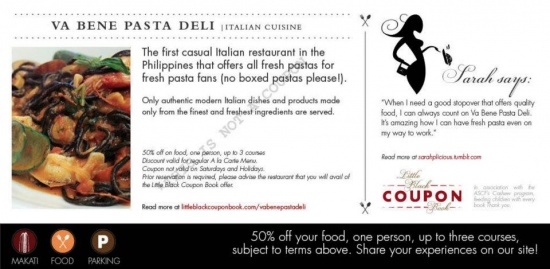 WE ARE A PART OF THE BEST 26 RESTAURANTS IN THE METRO WHO PARTICIPATED WITH THE LITTLE BLACK COUPON BOOK (LBC).  IMAGINE GET 50% DISCOUNT AT VA BENE PASTA DELI (AS WELL AS OTHER 25 RESTAURANTS) ON A 3 COURSE MEAL!  NOT BAD RIGHT?! 
YOU COULD PURCHASE YOUR LBC BOOKS (P1,199/BOOK) AT VA BENE PASTA DELI!  FOR MORE INFORMATION, PLS. CALL US AT 02-5569442/6227373/09175503817.
OR
PLS. FOLLOW THE LINK BELOW:
http://blackbookmanila.com/portfolio/va-bene-pasta-deli-for-fresh-pasta-fans/
http://www.facebook.com/littleblackcouponbook/photos#!/littleblackcouponbook
GRAZIE MILLE!!!
Posted on May 15, 2012