BLOG
ALL POSTS
LOOLOO: 2015 Mid-Year Report: The 10 Best Italian Restaurants In Manila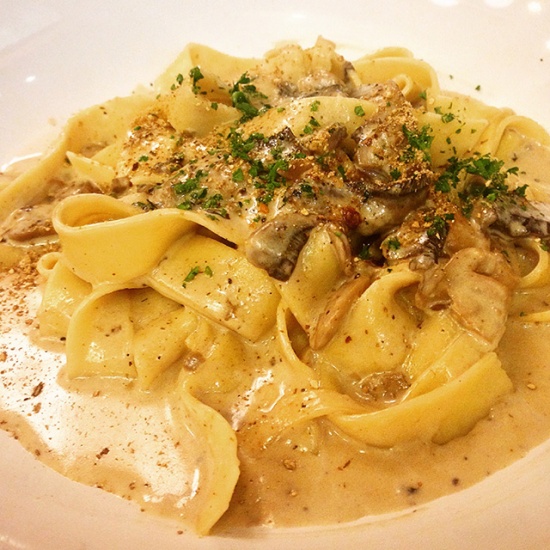 Thank you looloo!!! Va Bene Pasta Deli made it to the Top 10 Best Italian Restaurants in Manila for the 1st half of 2015!!! woot!!! woot!!! grazie mille!!! keep those good reviews coming!!!
4. Va Bene Pasta DeliAverage Rating: 4.44/5.00

The original Va Bene Pasta Deli, which so many have come to love, is tucked away beside a gas station along EDSA. But now, there's even more to love because Va Bene opened up a new branch in BGC. It has the same simple and honest feel as its predecessor, but don't let its humble interiors fool you because this Italian hole-in-the-wall whips up some of the best pasta dishes this side of Manila.
Organic Eggs Tagliatelle from Loren L.'s
looloo review for Va Bene Pasta Deli
Just like any good Italian restaurant would do, it whets the palate first with some complimentary bread and salsa which many looloo reviewers claim to be "so good in itself that it's hard to stop at just one serving." For your appetizer, you can go for the popular Polipo Salad which consists of thinly-sliced braised octopus, tomatoes, olives, and arugula. And for your main dish, some Va Bene favorites are the Organic Egg Tagliatelle, Ricotta Eggplant Tortellini, and Black Ink Tagliolino.
Va Bene Pasta Deli has branches in Bonifacio High Street Central in Taguig and Petron Gas Station, EDSA cor. Pasay Rd., in Makati.
TO VIEW THE WHOLE ARTICLE, PLEASE FOLLOW LINK:  http://insights.looloo.com/10-best-italian-restaurants-in-manila-mid-year-2015/
GRAZIE MILLE!!!!
FROM:  VA BENE PASTA DELI TEAM =)
Posted on July 15, 2015