About Us
Chef Massimo Veronesi was born near Verona, Italy in 1971. After graduating from a hotel school in Gardone "Lago Di Garda," he took an apprenticeship tour throughout the kitchens of Italy in different Michelin star restaurants. This brought him to Milan, Verona, Tuscany, and Bologna where he learned the different types of regional cuisine.
"This was the best years of my life. We were working 12 to 14 hours a day with just a humble salary and not even a rest day, but this started the basic of my cooking. I believe that the key is to respect the produce, to use fresh and seasonal ingredients, and to never over power the dish."
At age 24, he was given the opportunity to be Chef de Cuisine and be part of opening a boutique hotel that was owned by one of the richest Chinese Businessman in Jinan, China.
"We were preparing everything fresh from bread, gelato, pastas, and mozzarella. You could say, we where the pioneer in serving Italian food in this part of China."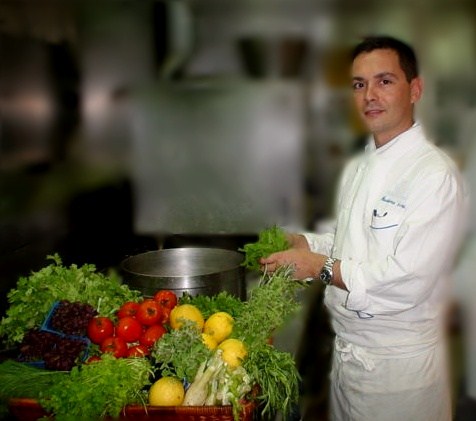 In 1998, he moved to Abu Dhabi and joined the Beach Rotana Hotel as the Sous Chef of their Italian restaurant, Comi Prima. During his time, the restaurant was nominated the Best Italian Restaurant in Abu Dhabi (1999) which led to numerous good reviews that paved the way for it to be known as one of the best spots to have authentic Italian dishes.
In 2001 He began his career with The Ritz-Carlton Hotel Company, L.L.C. as Chef de Cuisine at The Ritz-Carlton Dubai's Splendido Restaurant. Here, he had the honor of working with one of the best Executive Chefs, Victor Stamper who received a Michelin star in Germany.
"Chef Victor molded my style into a modern and sexy presentation without compromising the overall tastes of my dish. He inspired me to open my mind to the modern European and Italian cuisines."
During this time, he participated with the "Wine Week 2001" which was held at the Ritz-Carlton, Shanghai, China, where he was given the opportunity to work with top Italian guest chefs from the Piemonte region. Chef Massimo also got nominated for the Best Chef and Best Restaurant in Dubai (2003 and 2004) which led to his restaurant winning the award for the "Best Brunch" for 3 consecutive years.
Around the same time, he met his wife, Carolyn Veronesi, a Filipina, who was also working with the Ritz-Carlton Hotel, Dubai. From there on started another side of his life which was a responsible family man and later on a proud father of two children, Milena Julia and Michele.
"Being a husband and a father made my passion for food and the drive to succeed even stronger. I was no longer alone and the missing spaces in my life were filled because of my family"
In 2005, Chef Massimo with his family moved to Naples, Florida, U.S.A. and joined the Ritz-Carlton Golf Resort, Naples where he was given the chance to be Chef de Cuisine of the Lemonia Fine Dining Italian Restaurant. During his stay the restaurant was awarded the "Best Brunch" by Travel Magazine for the whole Naples and East Coast.
In July 2006, just after their youngest son was born, Massimo and his family decided to move back to Manila, Philippines, where he was given the chance to join The Peninsula Manila as Chef de Cuisine of Mi Piace Restaurant. During his stay the restaurant became one of the most popular Italian restaurants in Manila. This gathered prominent guests like prime ministers, elite guests, local and international movie stars, etc. From 2007 to 2009, he was able to create 30 promotions for the restaurant such as The"Black Summer Truffle Promotion," "Mushroom Promotion," or the famous "White Alba Truffle Promotion" to name a few.
In summer 2010, after more than 20 years of experience and working in the hotel industry Chef Massimo with his wife, Carolyn Veronesi decided to open their own business.
"We did not want to open just another fine dining Italian restaurant as there are already too many around. We wanted to offer our guests something unique and authentic. Where we could instill what we believe authentic Italian food should be. Then we decided to open VA BENE PASTA DELI – the only Italian restaurant in the Philippines who serves all fresh pastas! No boxed pastas here!"
VA BENE PASTA DELI then opened its doors last summer of 2010. A cozy Italian deli restaurant where you could have a taste of the real thing. From our fresh pastas like fettuccine, tagliolini, papardelle which they offer in different flavors, to their pasta sauces which they prepare a la minute for you, or our pizza altaglio which would bring you to the streets of Italy with just one bite, to their fresh cannellonis, fresh raviolis, gnocchi and a whole lot more, VA BENE PASTA DELI IS DEFINITELY THE RIGHT CHOICE! May it be for dine-in, delivery, take away, or catering, we guarantee authentic, affordable, and 5 star quality Italian food!
"TRULY ITALIAN!"