BLOG
ALL POSTS
PHILIPPINE TATLER'S BEST RESTAURANTS CHARITY WEEK 2012 @ VA BENE PASTA DELI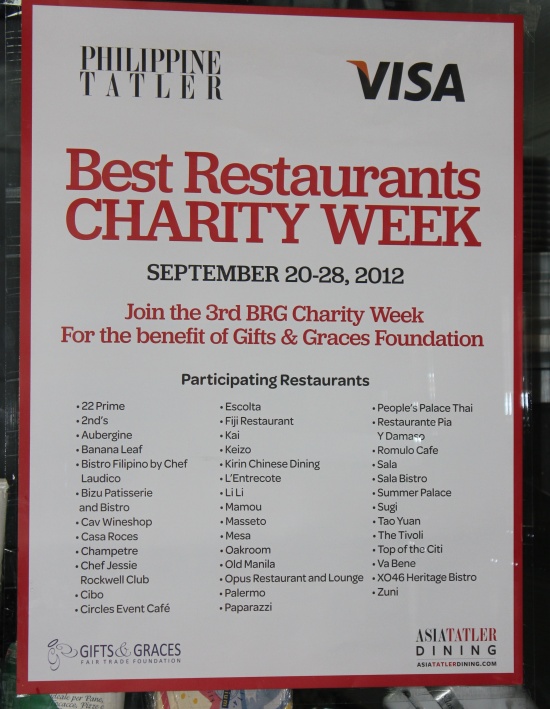 We are grateful and thankful for the support, success, and blessings we have received for the past two years, and with this..we believe that we need to give back to our community and help those who are in need...
 VA BENE PASTA DELI is participating with the Philippines' Best Restaurants Guide CHARITY WEEK on September 20-28, 2012. This year's CHARITY WEEK proceeds will benefit Gifts and Graces Fair Trade Foundation.
 ATTENTION! To All VISA Card Holders:
Special Promotion when you use your VISA card to pay!!!
 Visa card holders will get one (1) free coffee sleeve from Gift and Graces Trade Foundation for every minimum single receipt transaction of P5,000 made using a Visa card. This discount is open to all Visa cardholders. Promo period is from September 20 to 28, 2012.
Dine at VA BENE PASTA DELI! Enjoy authentic Italian cuisine and at the same time help someone who needs a helping hand! Grazie Mille!
For reservations, pls. call 09175503817/6227373/5569442 or reserve online at http://www.vabenepastadeli.com/
RELATED ARTICLE FROM ASIATATLER DINING:   http://www.asiatatlerdining.com/philippines/a-fair-share-for-everyone


Posted on