BLOG
ALL POSTS
VALENTINES WEEKLY SPECIALS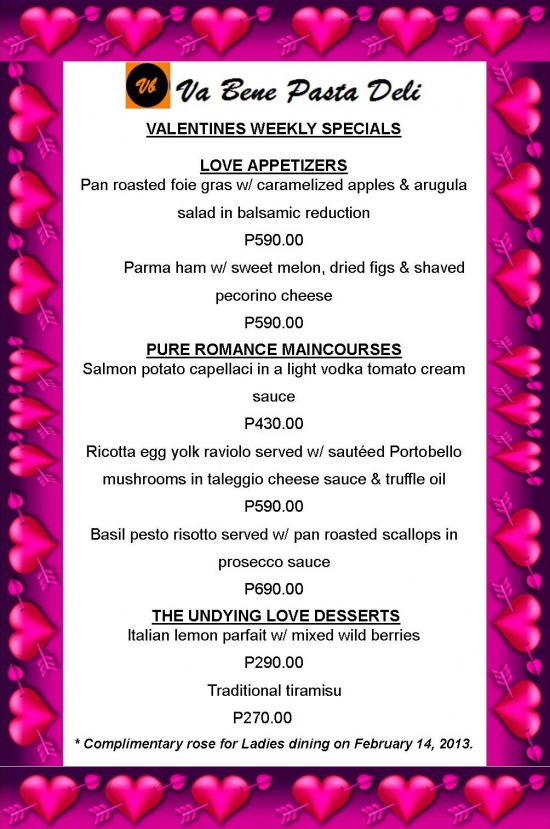 BUON SAN VALENTINO!!! THIS YEAR
VA BENE PASTA DELI
WILL BE CELEBRATING VALENTINES DAY NOT ONLY ON THE 14TH OF FEBRUARY 2013 BUT FOR ONE WHOLE WEEK (FROM FEBRUARY 12 - 17, 2013)!!! CHECK OUT OUR VALENTINES WEEKLY SPECIALS AND GIVE SOME LOV...ING TO YOUR "AMORE" OR SPECIAL SOMEONE!!! ALL LADIES DINING ON FEB. 14TH WILL RECEIVE A COMPLIMENTARY ROSE!!! RESERVE NOW! PLS. SEE BELOW FOR DETAILS.
"HAPPY VALENTINES WEEK! BUON SAN VALENTINO!!!"
FROM: VA BENE PASTA DELI TEAM
ORDER ONLINE OR VIEW OUR MENU AT:
MENU: http://
www.vabenepastadeli.com/menu/
RESERVATIONS/ORDERS:
http://www.vabenepastadeli.com/contact-us/
OR YOU COULD ALSO CALL US AT 02-5569442/6227373/09175503817.
WE ARE ACCEPTING CATERING EVENTS!!!
ADD US ON FACEBOOK:
http://www.facebook.com/pages/VA-BENE-PASTA-DELI
GRAZIE MILLE!!!
Posted on February 11, 2013