BLOG
ALL POSTS
VA BENE PASTA DELI PROMOTION WITH DANTE MANILA -- PROMOTING THE ITALIAN LANGUAGE AND CULTURE!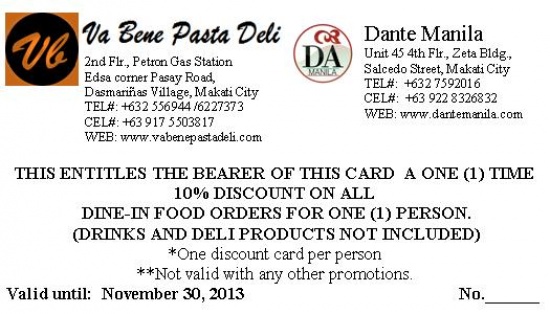 VIVA ITALIA! 
 IN PROMOTING THE ITALIAN LANGUAGE, TOURISM, AND CULTURE, VA BENE PASTA DELI HAS PARTNERED WITH DANTE MANILA/SOCIETA DANTE ALGHIERI (SDA), A SOCIETY THAT PROMOTES THE ITALIAN CULTURE AND LANGUAGE AROUND THE WORLD AND THE ONLY OFFICIAL PROGETTO LINGUA ITALIANA DANTE ALGHIERI (PLIDA) CERTIFICATION CENTRE IN THE COUNTRTY.  PLIDA IS THE OFFICIAL DIPLOMA THAT CERTIFIES YOUR LEVEL  OF PROFICIENCY IN THE READING, WRITING, SPEAKING, AND LISTENING ABILITIES OF THE ITALIAN LANGUAGE.
 ALL FIRST TIME ENROLEES AND STUDENTS OF DANTE MANILA COULD AVAIL OF THE DISCOUNT CARD WHICH ENTITLES THE BEARER A ONE (1) TIME 10% DISCOUNT ON ALL FOOD (NOT INCLUDING BEVERAGES AND DELI) FROM OUR REGULAR A LA CARTE MENU.  DISCOUNT CARDS ARE VALID UNTIL NOVEMBER 30, 2013.
 SO WHAT ARE YOU WAITING FOR?  LET US ALL START TO LEARN HOW TO SPEAK AND DINE THE ITALIAN WAY!!!
 FOR MORE DETAILS, YOU COULD CONTACT DANTE MANILA AT +63 2 7592016 / +63 922 8326832. 
 THEY ARE LOCATED AT :
DANTEMANILA - SOCIETA` DANTE ALIGHIERI
191, Salcedo Street Legaspi Village - Zeta Build. unit 45 - 4th. floor - MAKATI - MANILA (Philippines)
 GRAZIE MILLE! =)
Posted on September 13, 2012