BLOG
ALL POSTS
CHEF MASSIMO VERONESI'S WEEKLY SPECIALS - AUGUST 1, 2012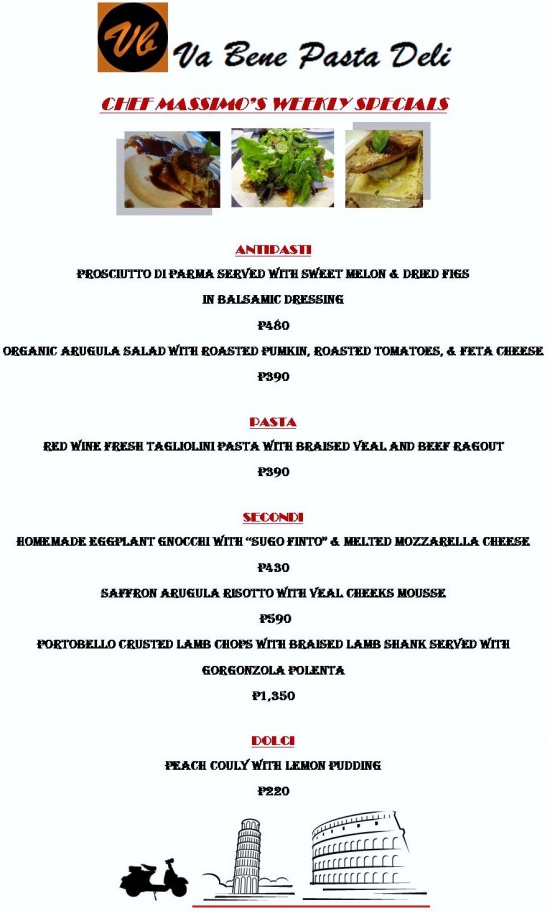 BEAT THE GLOOMY AND COLD RAINY WEATHER WITH CHEF MASSIMO VERONESI'S WEEKLY SPECIALS @ VA BENE PASTA DELI! FEEL THE HEAT WITH THIS WEEK'S ANTIPASTI, SECONDI AND DOLCI! AUTHENTIC ITALIAN CUISINE WITHIN REACH!
WE ARE NOW ACCEPTING RESERVATIONS ONLINE / ORDERS ONLINE FOR PICK UP OR DELIVERY / ADVANCE ORDERS FOR DINE - IN GUESTS. JUST FOLLOW THE LINK BELOW OR GO TO THE MENU PAGE OF OUR WEBSITE:
MENU: http://www.vabenepastadeli.com/menu/
RESERVATIONS/ORDERS: http://www.vabenepastadeli.com/contact-us/
OR
YOU COULD ALSO CALL US AT 02-5569442/6227373/09175503817.
DON'T FORGET TO CHECK OUT OUR CELEBRATIONS @ HOME PARTY PACKAGES!!!
LINK:
http://www.vabenepastadeli.com/blog/celebrations-home-perfect-for-small-gatherings-w-families-and-friends-pick-up-and-delivery-only-pls-read-terms-and-conditions/
TRULY VA BENE! =)
GRAZIE MILLE!
Posted on August 01, 2012