BLOG
ALL POSTS
CHEF MASSIMO'S WEEKLY SPECIALS - SEPTEMBER 17, 2013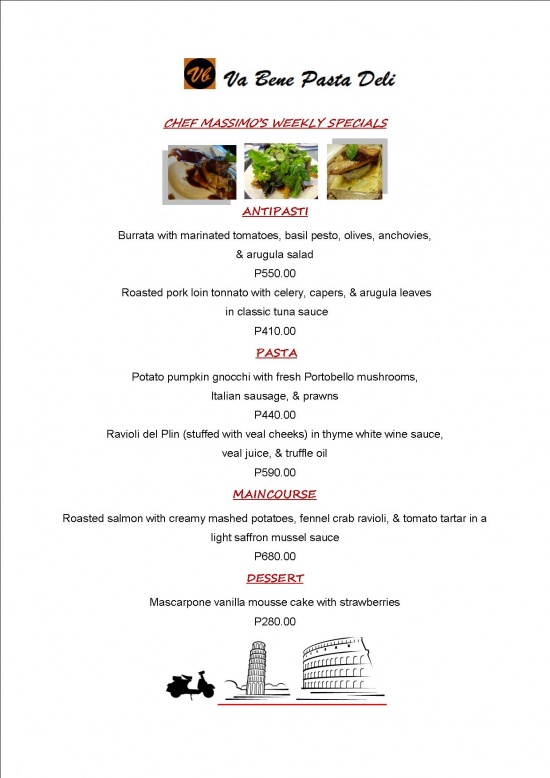 CHECK OUT CHEF MASSIMO'S WEEKLY SPECIALS AT VA BENE PASTA DELI !  SHOWCASING ALL OF CHEF MASSIMO'S CREATIONS FROM THE DIFFERENT REGIONS OF ITALY!  THESE ARE THE BEST DISHES OF ALL OF OUR SPECIALS IN ONE MENU!
 FOR RESERVATIONS OR INQUIRIES, PLS. CALL: 025569442/6227373/09175503817
 FOR RESERVATIONS ONLINE / ORDERS ONLINE, JUST FOLLOW THE LINK BELOW:
 MENU: http://www.vabenepastadeli.com/menu/
 RESERVATIONS/ORDERS: http://www.vabenepastadeli.com/contact-us/
 WE ARE LOCATED AT 2ND FLR. PETRON GAS STATION EDSA CORNER PASAY ROAD. DASMARINAS VILL., MAKATI CITY --- DEFINITELY WORTH THE TRIP!
 WE ARE OFFERING CATERING SERVICES FOR ALL KINDS OF EVENTS!!!
 CONTACT US FOR MORE INFORMATION!!!
 GRAZIE MILLE!!!
Posted on September 17, 2013