BLOG
ALL POSTS
CHEF MASSIMO'S WEEKLY SPECIALS - OCTOBER 3, 2012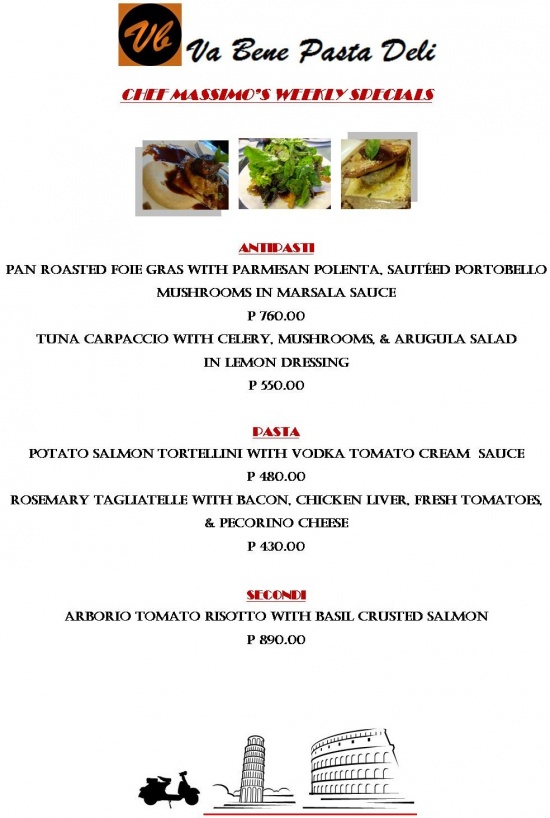 THIS WEEK WE ARE FEATURING SPECIAL DISHES TO MAKE YOU FEEL THE WARMTH YOU NEED DURING THIS RAINY & COLD WEATHER!  ALLOW CHEF MASSIMO & OUR TEAM TO PROVIDE YOU WITH THE MOST MEMORABLE GASTRONOMIC EXPERIENCE WITH THIS WEEK'S SPECIALS! 
AUTHENTIC ITALIAN CUISINE FOUND ONLY AT VA BENE PASTA DELI!
WE ARE NOW ACCEPTING RESERVATIONS ONLINE / ORDERS ONLINE FOR PICK UP OR DELIVERY / ADVANCE ORDERS FOR DINE - IN GUESTS. JUST FOLLOW THE LINK BELOW OR GO TO THE MENU PAGE OF OUR WEBSITE:

MENU: http://www.vabenepastadeli.com/menu/ 


RESERVATIONS/ORDERS: http://www.vabenepastadeli.com/contact-us/

OR

YOU COULD ALSO CALL US AT 02-5569442/6227373/09175503817.

DON'T FORGET TO CHECK OUT OUR CELEBRATIONS @ HOME PARTY PACKAGES!!!

LINK:

http://www.vabenepastadeli.com/blog/celebrations-home-perfect-for-small-gatherings-w-families-and-friends-pick-up-and-delivery-only-pls-read-terms-and-conditions/

TRULY VA BENE! =)

GRAZIE MILLE!
Posted on October 03, 2012