BLOG
ALL POSTS
CHEF MASSIMO'S WEEKLY SPECIALS - MARCH 12, 2013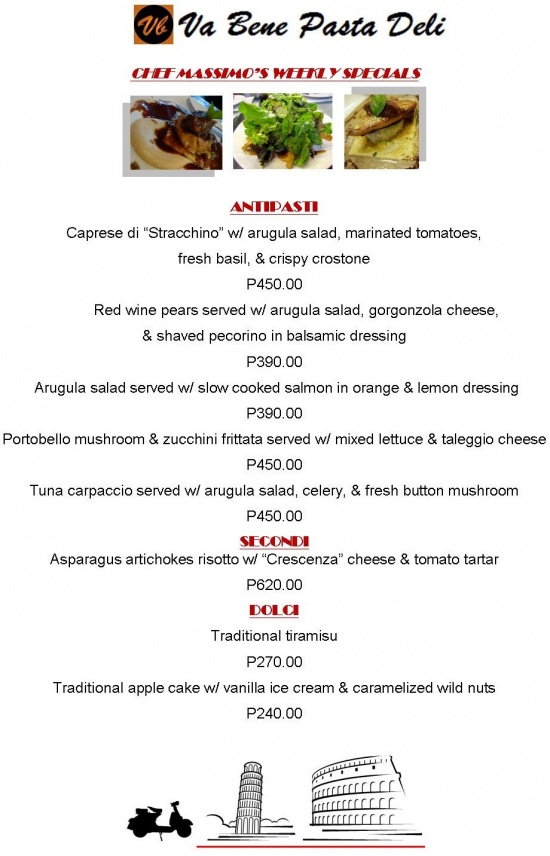 SUMMER IS HERE!!! ITS TIME TO SIZZLE AND HAVE FUN UNDER THE SUN! AND AT
VA BENE PASTA DELI
THERE WOULD BE NO WORRIES WITH CHEF MASSIMO'S WEEKLY SPECIALS!!! FEATURING ALL HEALTHY DISHES TO MAINTAIN THAT PHYSIQUE BODY FOR THE SUMMER!!! SATISFY THOSE CRAVINGS & STAY GUILT FREE!!!
MUST TRY WOULD BE THE CAPRESE DI "STRAC
...
CHINO" W/ ARUGULA SALAD, MARINATED TOMATOES, FRESH BASIL, & CRISPY CROSTONE!

FOR RESERVATIONS ONLINE / ORDERS ONLINE, JUST FOLLOW THE LINK BELOW:

MENU:

http://

www.vabenepastadeli.com/menu/

RESERVATIONS/ORDERS:

http://

www.vabenepastadeli.com/

contact-us/



OR YOU COULD ALSO CALL US AT 02-5569442/6227373/

09175503817.

WE ARE NOW OFFERING CATERING SERVICES FOR ALL KINDS OF EVENTS!!!

CONTACT US FOR MORE INFORMATION!!!


GRAZIE MILLE!!!
Posted on March 12, 2013