BLOG
ALL POSTS
CHEF MASSIMO'S WEEKLY SPECIALS - JANUARY 28, 2013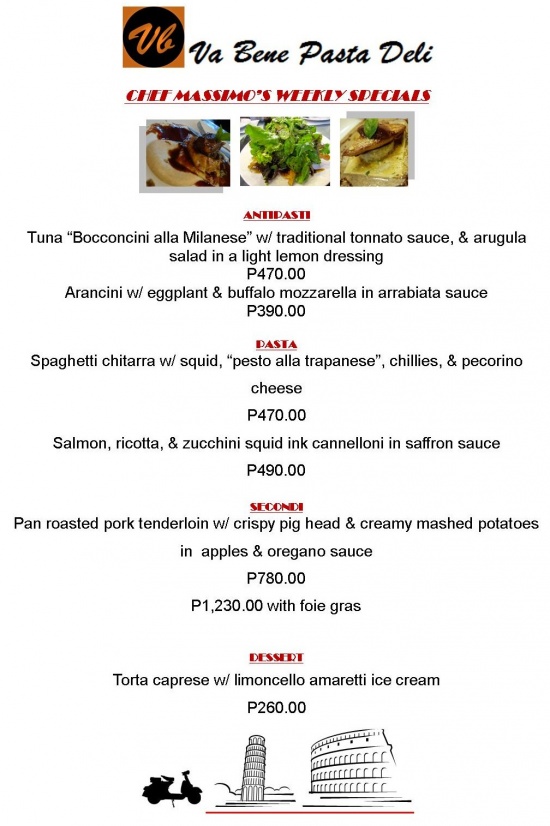 CHECK OUT CHEF MASSIMO'S WEEKLY SPECIALS AT VA BENE PASTA DELI!!!
THIS WEEK WE ARE FEATURING SOUTHERN ITALIAN DISHES TO SATISFY YOUR CRAVINGS! TRY CHEF MASSIMO'S VERSION OF SICILIAN CUISINE! MUST TRY WOULD BE THE SPAGHETTI CHITARRA W/ SQUID, PESTO ALLA TRAPANESE, CHILLIES, & PECORINO CHEESE AND FOR MEATLOVERS, THE PAN ROASTED PORK TENDERLOIN W/ CRISPY PIG HEAD & CREAMY MASHED POTATOES IN APPLES & OREGANO SAUCE (ADD SOME FOIE GRAS TO MAKE IT MORE YUMMMMMY)!!!
AVAILABLE ON WEDNESDAY! JAN 30, 2013!
ORDER ONLINE OR VIEW OUR MENU AT:
 
MENU: http:// www.vabenepastadeli.com/menu/
RESERVATIONS/ORDERS: http:// www.vabenepastadeli.com/contact-us/
 
OR YOU COULD ALSO CALL US AT 02-5569442/6227373/09175503817.
 
ACCEPTING CATERINGS FOR ALL EVENTS!!!
ADD US ON FACEBOOK:
http://www.facebook.com/welcomeback/requests/#!/pages/VA-BENE-PASTA-DELI

 GRAZIE MILLE!!!
Posted on January 28, 2013