BLOG
ALL POSTS
CHEF MASSIMO'S WEEKLY SPECIALS - JANUARY 23, 2013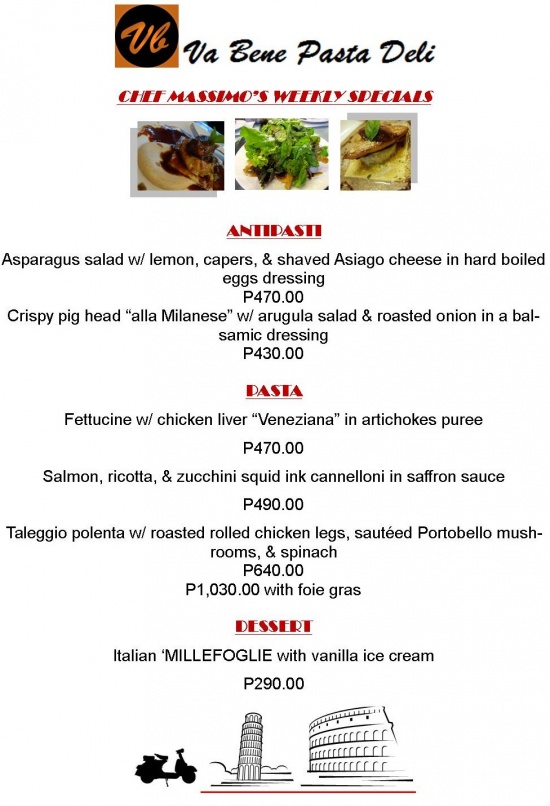 CHECK OUT CHEF MASSIMO'S WEEKLY SPECIALS @ VA BENE PASTA DELI!!! THIS WEEK WE ARE FEATURING SPECIALTY DISHES FROM THE NORTHERN PART OF ITALY WHERE CHEF MASSIMO WAS BORN! DON'T MISS THE GASTRONOMIC "CRISPY PIG HEAD ALLA MILANESE SERVED WITH ARUGULA SALAD & ROASTED ONIONS IN BALSAMICO!" AND FOR POLENTA LOVERS, WE HAVE THE TALEGGIO POLENTA W/ ROASTED ROLLED CHICKEN LEGS, SAUTEED PORTOBELLO MUSHROOMS, & SPINACH (OFCOURSE YOU HAVE THE OPTION TO ADD SOME FOIE GRAS TO MAKE IT MORE YUMMY!!!)!!!
AVAILABLE ON WEDNESDAY! JAN 23, 2013!
MENU:
...
http://
www.vabenepastadeli.com/menu/
RESERVATIONS/ORDERS:
http://
www.vabenepastadeli.com/contact-us/
OR YOU COULD ALSO CALL US AT 02-5569442/6227373/09175503817.
GRAZIE MILLE!!!
Posted on January 21, 2013