BLOG
ALL POSTS
CHEF MASSIMO'S WEEKLY SPECIALS - FEBRUARY 6, 2013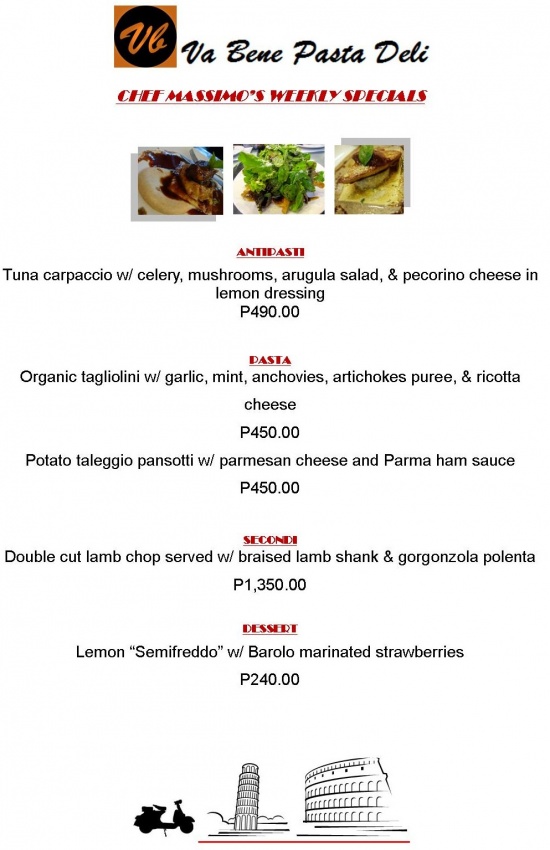 CHECK OUT CHEF MASSIMO'S WEEKLY SPECIALS!!!
THIS WEEK WE ARE FEATURING DISHES FROM CALABRIA, LOCATED AT THE SOUTHERN PART OF ITALY. A MUST TRY FOR RAVIOLI LOVERS WOULD BE THE "Potato taleggio pansotti w/ parmesan cheese and Parma ham sauce." WHILE FOR THOSE WHO ADORES OUR LAMB SPECIALS, WE HAVE THIS WEEK THE "Double cut lamb chop served w/ braised lamb shank & gorgonzola polenta."
AVAILABLE STARTING TONIGHT, FEB. 6. 2013!!!
ORDER ONLINE OR VIEW OUR MENU AT:
MENU: http://
www.vabenepastadeli.com/menu/
RESERVATIONS/ORDERS:
http://www.vabenepastadeli.com/contact-us/
OR YOU COULD ALSO CALL US AT
02-5569442/6227373/09175503817.
WE ARE ACCEPTING CATERING EVENTS!!!
ADD US ON FACEBOOK:
http://www.facebook.com/pages/VA-BENE-PASTA-DELI
GRAZIE MILLE!!!
Posted on February 06, 2013