BLOG
ALL POSTS
CHEF MASSIMO'S WEEKLY SPECIALS - FEBRUARY 26, 2013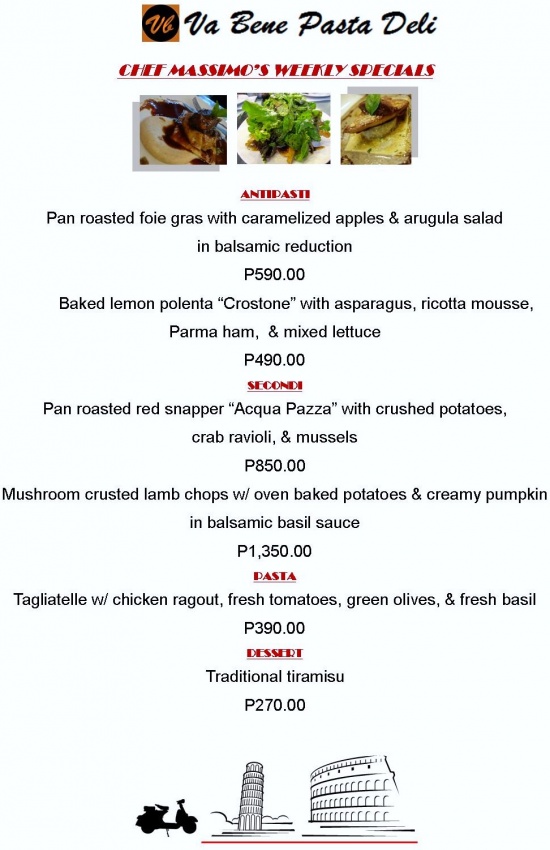 CHECK OUT CHEF MASSIMO'S WEEKLY SPECIALS @
VA BENE PASTA DELI
! FEATURING HIS MOST FAVOURITE DISHES!
RECCOMENDATIONS: START W/ OUR "BAKED LEMON POLENTA CROSTONE WITH ASPARAGUS, RICOTTA MOUSSE, PARMA HAM, AND MIXED LETTUCE."
FOR SECONDI, TRY OUR "MUSHROOM CRUSTED LAMBCHOPS W/ OVEN BAKED POTATOES & CREAMY PUMPKIN IN BALSAMIC BASIL SAUCE." OR FOR SEAFOOD LOVERS, YOU COULD OPT FOR OUR "PAN ROASTED RED SNAPPER - ACQUA PAZZA" (NEW DISH!).
...
END IT WITH OUR SPLENDID "TRADITIONAL TIRAMISU."
SPECIALS STARTS TONIGHT, FEB. 26, 2013 - TUESDAY!
WE ARE ACCEPTING RESERVATIONS ONLINE / ORDERS ONLINE FOR PICK UP OR DELIVERY / ADVANCE ORDERS FOR DINE - IN GUESTS. JUST FOLLOW THE LINK BELOW OR GO TO THE MENU PAGE OF OUR WEBSITE:
MENU:
http://www.vabenepastadeli.com/menu/
RESERVATIONS/ORDERS:
http://www.vabenepastadeli.com/contact-us/
OR
YOU COULD ALSO CALL US AT 02-5569442/6227373/09175503817.
WE OFFER CATERING SERVICE AND EQUIPMENT RENTALS!!! BOOK NOW YOUR EVENTS WITH US!!!
Posted on February 26, 2013