BLOG
ALL POSTS
BUSINESS LUNCH PROMOTION (TUESDAY-FRIDAY/11:30AM-2:30PM)-AUGUST 1, 2012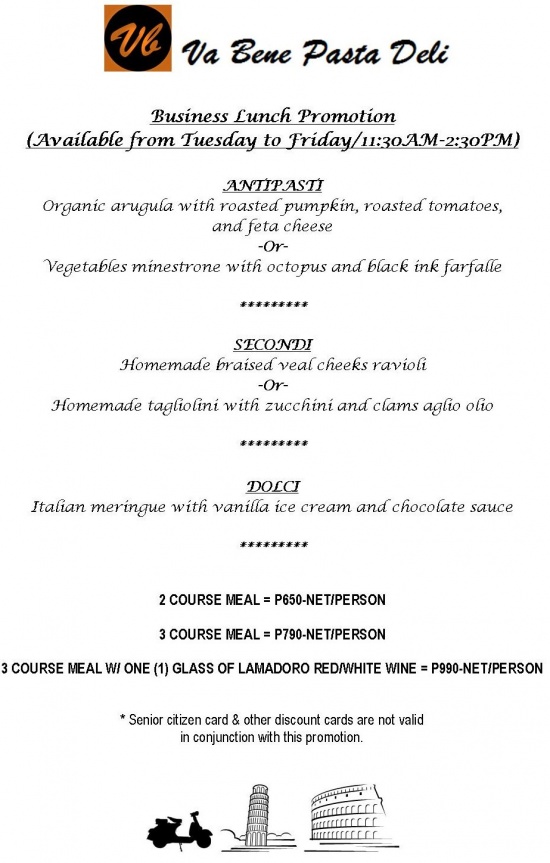 "ITS A RAINY DAY AND YOUR AT THE OFFICE STARING AT THE PACKED LUNCH RESTING ON YOUR TABLE, THINKING MAYBE IT'S BETTER TO ORDER SOME FAST FOOD..."  BUT WHY SETTLE FOR LESS?  TAKE A BREATHER AND REWARD YOURSELF WITH CHEF MASSIMO VERONESI'S BUSINESS LUNCH MENU @ VA BENE PASTA DELI.  SATISFY YOUR NEEDS WITH OUR AUTHENTIC ITALIAN DISHES!  FOR YOU DESERVE A BREAK! 
WE ARE NOW ACCEPTING RESERVATIONS ONLINE / ORDERS ONLINE FOR PICK UP OR DELIVERY / ADVANCE ORDERS FOR DINE - IN GUESTS. JUST FOLLOW THE LINK BELOW OR GO TO THE MENU PAGE OF OUR WEBSITE:
MENU: http://www.vabenepastadeli.com/menu/
RESERVATIONS/ORDERS: http://www.vabenepastadeli.com/contact-us/
OR
YOU COULD ALSO CALL US AT 02-5569442/6227373/09175503817.
DON'T FORGET TO CHECK OUT OUR CELEBRATIONS @ HOME PARTY PACKAGES!!! LINK: http://www.vabenepastadeli.com/blog/celebrations-home-perfect-for-small-gatherings-w-families-and-friends-pick-up-and-delivery-only-pls-read-terms-and-conditions/
Posted on August 01, 2012