BLOG
ALL POSTS
BUSINESS LUNCH MENU - SEPTEMBER 17, 2013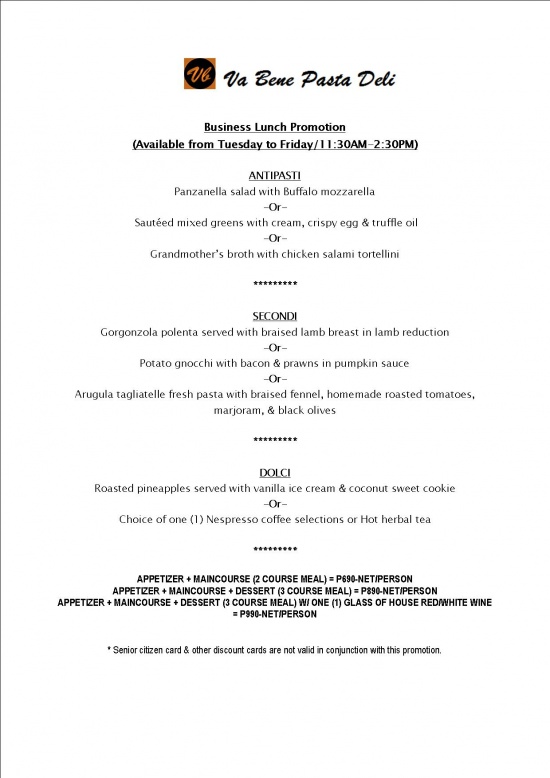 CHECK OUT AND LET Va Bene Pasta Deli 's BUSINESS LUNCH MENU FOR THIS WEEK (EXTENDED FOR 2 WEEKS NOW DUE TO GUEST REQUESTS!!!) BRIGHTEN YOUR DAY!
MUST TRY IS OUR GRANDMOTHER'S BROTH WITH SALMON TORTELLINI (RAVIOLI), THE GORGONZOLA POLENTA WITH BRAISED LAMB BREAST IN LAMB REDUCTION, & FOR DESSERT SOME ROASTED PINEAPPLES WITH VANILLA ICE CREAM & COCONUT COOKIE! YUMMY!
CHECK OUT THE PHOTO: ONE OF MY FAVE, CHEF MASSIMO'S POTATO GNOCCHI WITH BACON & PRAWNS IN PUMPKIN SAUCE!!!
RESERVE NOW YOU COZ DESERVE THE BEST!!!
FOR RESERVATIONS OR INQUIRIES, PLS. CALL: 025569442/09175503817
FOR RESERVATIONS ONLINE / ORDERS ONLINE, JUST FOLLOW THE LINK BELOW:
MENU: http://www.vabenepastadeli.com/menu/
RESERVATIONS/ORDERS: http://www.vabenepastadeli.com/contact-us/
WE ARE OFFERING CATERING SERVICES FOR ALL KINDS OF EVENTS!!!
CONTACT US FOR MORE INFORMATION!!!
GRAZIE MILLE!!!
Posted on September 17, 2013